Silo Cleaning FAQs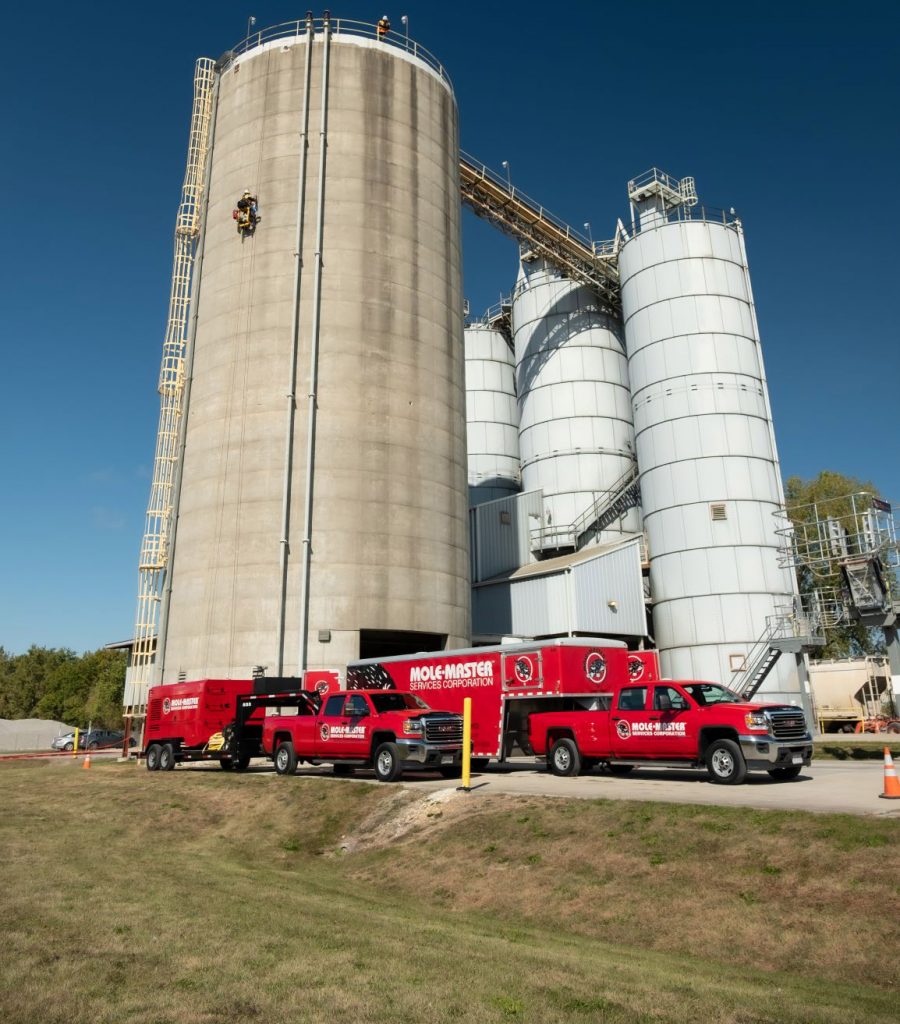 Mole•Master™ is the leader in silo cleaning services, and we're always glad to share our expertise with silo owners and operators.
Review the list of questions below to learn more about silo cleaning and the services we offer. Can't find the answer you need? Contact us at 800.322.6653 or contactus@molemaster.com.
Who is Mole•Master?
Based in Marietta, Ohio, Mole•Master™ Services Corporation is the silo cleanout specialist, providing a wide range of silo cleaning services and equipment to an equally wide range of industries. Click here to read more about our company and our dedication to safe, effective, reliable silo cleaning.
What services do you provide?
Besides our industry-leading silo cleaning services, our other services include industrial vacuuming, pipe cleaning, preventative maintenance, structural silo inspection, plant maintenance and media blasting.
What is media blasting?
One of several silo cleaning methods we use, media blasting is a surface cleaning technique usually divided into two categories: dry ice blasting (which uses CO² pellets) and abrasive blasting (which uses other materials, like sodium bicarbonate, walnut shells or glass beads). Read our dry ice blasting and abrasive blasting blog posts to learn more.
What silo cleaning equipment do you rent and sell?
Our engineered products include the Arch•Master™ and the Junior 360°™, along with the Safe-T-Shot™ CO2 Blasting System.
How do I know whether I should rent or buy silo cleaning equipment?
Buying equipment means you'll always have it on hand, although delivery times for purchased equipment are sometimes extended. If you need immediate access to silo cleaning equipment, renting usually gets the equipment on site more quickly and is less expensive – until the rental fees begin to pile up. The good news is that Mole•Master™ allows you to credit a portion of your rental costs against the purchase price of new equipment once you're ready to buy.
What industries do you serve?
Mole•Master™ has provided critical silo cleaning services and equipment to a wide range of industries, including:
What if I'm not in one of those industries but I still have silos that need to be serviced?
We've also worked in salt plants, manufacturing plants, mines, chemical/plastic operations, pharmaceutical facilities, and more. Contact us if you'd like to know what Mole•Master™ can do for your facility.
What types of silos do you service?
Mole•Master™ specializes in cleaning, servicing and inspecting any type of bulk material storage "container," including alumina and bauxite silos, biofuel/ethanol scalpers, cement terminals and kilns, coal day bins, feed and grain silos and bins, fly ash cyclones, glass batch houses, and power industry vessels.
What are the most common silo blockage problems you encounter?
No matter what type of vessel we're servicing, our highly trained staff is well-prepared to handle any type of situation. We most frequently see issues like:
Funneling
Ratholing
Plugging
Doming
Bridging
Caking
Is safety a top priority?
Safety is literally Job #1 at Mole•Master™, where our rigorous safety training program ensures 100% compliance with federal guidelines. Our highly skilled, trained professional staff always meets or exceeds OSHA/MSHA standards. Our comprehensive policies cover confined space entry, lock out/tag out, and more. For details, read our safety philosophy or review our extensive list of silo cleaning safety FAQs.
What geographic locations do you serve?
Our silo cleaning professionals can reach any corner of the globe to inspect, clean and service silos. We've provided cleaning services and equipment across the U.S. and in 33 countries.
What should I look for in a silo cleaning company?
Proper certification and training to comply with all current OSHA standards are essential requirements for any company that you consider hiring to service your silos and bins. Appropriate equipment, knowledge of local regulations, and established processes for clear, concise communications are other key considerations when selecting a vendor to maintain, inspect or clean your silos and other storage vessels.
Why should I choose Mole•Master for my industrial silo cleaning needs?
Mole•Master has the trained personnel, specialized equipment and attention to detail that your toughest silo cleaning challenges require. Our Rapid Response service ensures you'll get the help you need for your U.S.-based facilities when you need it.
Why are Mole•Master's silo cleaning services preferred by industry leaders?
Industry leaders around the world rely on Mole•Master because they know they can trust our commitment to safety, knowledge of local requirements and extensive experience in a solving a wide range of difficult silo blockage challenges.
What should I look for in a silo cleaning quote?
The quote should clearly outline:
The services to be provided
The vendor's responsibilities
Your responsibilities
The costs associated with the services
Why should I get my silo cleaned?
Clean silos are important from an operational standpoint simply because inefficient material flow and reduced storage capacity will have an immediate impact on your facility's profitability. From a worker safety perspective, it's often good to have an expeienced company clean your silos and bins rather than rely on your own staff to clear blockages. An established, trusted silo cleaning company will be able to complete the work safely and efficiently.
Why should I get my silo inspected?
Regular, thorough inspections can help head off problems and keep your silos running at a profitable level.
What do your customers say about you?
Across all the industries we serve, our customers say they appreciate and rely on our silo expertise, commitment to safety and professionalism. Visit our Testimonials page to read first-hand responses from our customers.