Abrasive Blasting: When the Occasion Calls for Abrasion
Many industries throughout the U.S. depend on Mole∙Master™ Services Corporation and its Abrasive Blasting Services to solve a number of problems, from difficult cleaning jobs to surface preparation. Mole∙Master™ experts have spent decades perfecting the technique, which can be fine-tuned for various purposes. By definition, abrasive blasting forcibly propels a flow of an abrasive substance against a surface through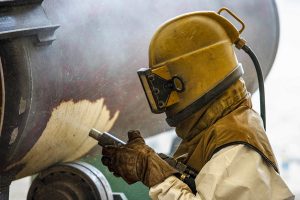 high pressure.
Versatility is Key
As one of two media blasting services offered by Mole∙Master™, Abrasive Blasting is remarkably adaptable to different applications because a variety of media can be utilized. Mole∙Master™ carefully analyzes each project to determine which media will be best-suited to the task at hand. Some considerations include the type of surface being treated, specific environmental concerns, and avoiding contamination of foodstuffs or other supplies. Some of the media used by Mole∙Master™ includes:
Silicon Carbide
Crushed Glass
Sodium Bicarbonate
Walnut Shells
Plastic Blast Media
Glass Beads
Aluminum Oxide
Steel Shot
Crushed Corn Cobs
Pumice
Getting to the Surface
Different blasting media have various levels of hardness and abrasion; a milder example is sodium bicarbonate, while steel shot is extremely abrasive. Hard abrasives can blast away scale and rust from metals, while softer abrasives can strip away paint without damaging more delicate surfaces. Mole∙Master's abrasive blasting experts blend the right medium with precisely metered compressed air to effectively blast surface materials away with no damage to the substrate.
Surface Materials Removed by Abrasive Blasting
Adhesives
Contaminants
Graffiti
Scale
Surface Rust
Paint
Corrosion
Mole∙Master's Abrasive Blasting System comprises a blast generator, high-pressure compressed air, moisture decontamination system, blast hose, and nozzle. When placed in the hands of Mole∙Master™ experts, this system can achieve surface preparation or contaminant removal with unmatched effectiveness and efficiency.
Abrasive Blasting is used to clean, treat and repair a variety of surfaces, including:
Walls
Structural Steel
Conveyers
Machinery
Masonry
Fiberglass
Safety Above All Else
Media blasting services like abrasive blasting are often chosen as a safe alternative to toxic solvents and strippers, since many of the blasting media used are natural and biodegradable. Mole∙Master's culture of safety ensures that the utmost consideration is taken before, during and after each project. From the very first evaluation, to site preparation and post-project cleanup, the Mole∙Master™ blasting team follows stringent health and safety standards while meeting or surpassing OSHA guidelines.
Contact Mole∙Master™ at 740.374.6726 to learn the surprising ways abrasive blasting can help your business or project.