Dry Ice Pellet Blasting: Putting Industrial and Residential Problems on Ice
Few industrial blasting techniques compare to Dry Ice Pellet Blasting offered by Mole∙Master™ Services Corporation for safety, efficiency and versatility. In the hands of Mole∙Master's experienced professionals, dry ice blasting effectively blasts away the buildup of various unwanted substances and contaminants without damaging surfaces or substrates. The process easily removes: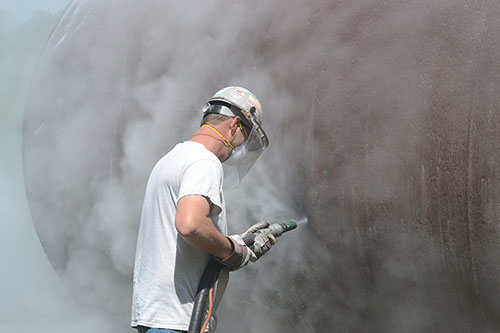 Mold
Grease
Rust
Paint
Scale
Soot
Adhesives
Films
Graffiti
Mole∙Master™ has spent decades advancing and perfecting dry ice blasting, and a wide variety of industries rely on it for the proven results it consistently delivers. The process does not generate heat, so it will not warp metal surfaces. Because the dry ice pellets evaporate on contact, and no solvents or liquids are used, the process is safe for many applications that would otherwise be susceptible to damage. In fact, Mole∙Master™ has used the process in highly specialized applications such as cleaning tarnished electrical bass contacts and even historic Paul Revere church bells.
Industries and Applications Served by Dry Ice Pellet Blasting
Food and Grain
Paint Booths
Ethanol
Silos
Electrical
Bins
Pulp and Paper
Machinery
Marine
Polymers
Aviation
Foundry
Going Deep without Scratching the Surface
A recent residential Dry Ice Blasting project completed by Mole∙Master™ clearly illustrates the advantages of the technique. A housefire in Cadiz, Ohio, caused substantial damage and necessitated extensive repairs and cleanup. The fire, originating at a chimney's cleanout port, charred and blackened the home's multi-colored brick. While some of the badly damaged home's items could be ripped out and replaced, such as carpets and wallcoverings, the brick needed to be salvaged to the greatest extent possible. One of the challenges was removing the soot and char without further damaging the porous brick or causing any undesirable color changes.
From its extensive arsenal of abrasive blasting tools and services, the Mole∙Master™ experts identified Dry Ice Pellet Blasting as the optimum method for the Cadiz project based on the following characteristics:
Low-abrasion provides powerful cleaning without damaging the surface of the brick
Non-toxic dry ice pellets would not threaten the health or safety of the family or its pets
Dry Ice Blasting is compliant with EPA, USDA, and FDA guidelines
Because Dry Ice returns to a harmless, gaseous state, minimal clean-up is involved
The Mole∙Master™ crew of four professionals approached the project with two Dry Ice Pellet Blasting Machines with the objective of near-total recovery. While there is never 100% certainty that a project can be restored to its original state prior to sustaining damage, Mole∙Master™ utilizes the tools that deliver the best results possible.
Using a fine-tuned combination of high-density CO2 pellets, high-velocity air streaming and interchangeable nozzles, the crew was able to remove layers of soot, char and other contaminants from the brick. Driven by just the right amount of pressure, the dry ice pellets reached deeply, but gently, into the porous brick to remove the fire and smoke damage. The brick retained its subtle color changes, the mortar was undamaged, and much of the smoky odor was mitigated.
A Proven Industrial and Residential Solution
Mole∙Master's Dry Ice Pellet Blasting offers impressive versatility for a number of projects, from performing scheduled maintenance to fast recovery from unexpected incidents and everything in between. Continuous engineering advancements have resulted in several proven advantages of the process.
Advantages of Dry Ice Pellet Blasting
Minimal set-up and preparation time
A major decrease in production downtime
Evaporation means cleanup is minimized or eliminated
Virtually no impact on day-to-day operations
The absence of heat means dry ice blasting will not warp metal
Contact Mole∙Master™ at 740.374.6726 to learn just how efficient, economical and effective modern Dry Ice Pellet Blasting can be in the hands of experienced professionals.