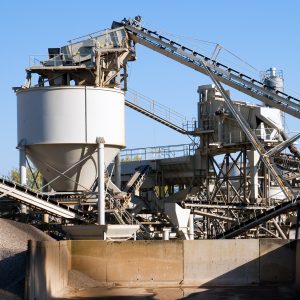 Preventing Flow Issues in Cement Silos
Cement is a compound that reacts easily to increased moisture and elevated temperatures. Cement storage can present several unique challenges; material mishandling can result in compromised silo structures and financial setbacks from unsalvageable cement supplies.
Silo owners need to understand the root cause of flow issues to effectively address each problem. Factors that can affect cement flow are:
Moisture
Keeping cement storage spaces free from moisture is crucial to preventing the buildup of difficult-to-remove, hardened material. Moisture issues are often the result of faulty dehumidifying systems or damaged silo structures.
Solutions:
Perform regular maintenance inspections. Look for fissures on the exterior of the silo, cracks in the silo roof, or unsealed openings.
Check dehumidifiers in pneumatic conveying systems for faults or inefficiencies.
Temperature
Temperature and moisture are closely related. Maintain the proper temperature inside the silo. Overheated cement will become dehydrated. The resulting expelled moisture is then absorbed by colder, deaerated cement, causing it to harden and ruin.
Solutions:
Ensure temperature gauges are functioning properly.
Adjust the silo temperature for seasonal variations.
Interior Ledges
Cement can cling to any groove or crevice and protrusions will collect moisture and material. This build up will eventually grow too heavy and break off from the wall, potentially causing blockages at the discharge outlet.
Solution:
There is no substitute for regular cleaning by trained professionals. Regularly scheduled silo cleaning helps prevent the most costly and dangerous issues that can arise when cement buildup is left unchecked over long periods.
Flawed or Improper Silo Design
Most silo owners aren't able to significantly change a silo's design after its construction but may realize after the fact that one of three mistakes have occurred.
The discharge angle is not steep enough to allow the stored material to flow freely.
The discharge outlet is too small for the type and volume of stored material.
The discharging aids have not been chosen or installed properly.
Silos are not one-size-fits-all containers. For example, a silo that works for grain will not necessarily work for cement. The reason is that these materials have different mass, density, and environmental requirements. The configuration of the cement silo will be slightly different for products that are identified as high-performance concrete or self-compacting concrete. Even the type of metal used to construct the silo can cause adverse chemical reactions with different materials causing corrosion and loss of quality.
Solution:
Silo design and construction planning should take into consideration the type and volume of material stored as well as the frequency and method of discharge.
Upgrade pneumatic discharging aids such as fluidizers and air pads.
Do not change stored materials without consulting an engineer or inspector first.
Cement flow issues can be prevented with proper maintenance, silo design, cement composition, and climate controls. Once a silo owner has established an effective strategy, maintenance becomes a simple, repeatable process.
Mole•Master provides world-class silo cleaning and inspection services. If you are struggling with flow issues in cement silos, contact us today.