When it comes to maximizing the lifespan of silos and other storage vessels and minimizing unexpected downtime, there is no substitute for preventative silo maintenance at regularly scheduled intervals of one, two or up to five years as required.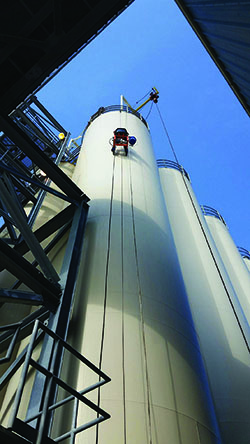 Silo maintenance and inspection are not disruptors of productivity, they are facilitators of it. A relatively minor issue going unnoticed today can become an expensive and time-consuming interruption of productivity tomorrow that requires significant expenditures of time and capital—expenditures that are often completely unnecessary with preventative silo maintenance.
Most importantly, poorly maintained or neglected silos can present major safety hazards, up to and including collapse, that may lead to injury and loss of life. That's where a safety-first approach to preventative maintenance sets Mole·Master™ apart.
No Two Silos are Identical
Because no two industries, silos or sites are identical, Mole·Master™ utilizes its more than three decades of experience to ensure that the most effective, efficient and safest methods are used for each project.
Materials that have hardened or solidified and created substantial blockage over time often require equal parts force and finesse. Exclusive, proprietary Big·Mole™ technology in the hands of skilled engineers, project managers and technicians means preventative silo maintenance and cleaning performed by Mole·Master™ will be safe, efficient and help ensure a rapid return to full productivity.
The Power of Prevention
Removing small amounts of material periodically can reduce or sometimes even eliminate the need for complete production stoppages. Mole·Master™ has also made it practical to bring regularly scheduled silo, bin and kiln cleaning in-house with Junior 360°™, Arch-Master™ and Safe-T-Shot™ systems and training.
Regular silo maintenance at predetermined intervals can help:
Prevent long-term structural damage and deterioration
Minimize or eliminate complete production stoppages
Maximize consistent material quality by reducing stagnation
Ensure ongoing safety standards
Maintenance that Means More
Unlike other silo cleaning companies, Mole·Master™ can provide structural inspections conducted by certified engineers along with time-tested maintenance and cleaning capabilities. The Mole·Master™ silo inspection process evaluates the exterior and interior status of the vessel through core testing, thickness testing, and roof beam and pocket examination.
Contact us today to learn more about the value and efficiency Mole·Master™ preventative maintenance can bring to your facility.