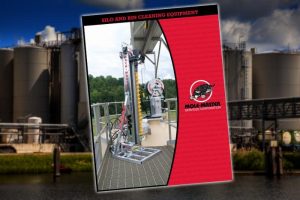 Marietta, Ohio, USA…Mole•Master™ Services Corporation, the leader in the silo and bin cleaning industry for over three decades, has developed a new four-page brochure focused on the Junior 360º™ and the Arch-Master™. Two spec sheets are also included in the brochure.
The opening spread of the brochure focuses on features of both the Junior and the Arch-Master™. The section focusing on the Junior 360º™ is divided between the Pneumatic and the Hydraulic models, with features common to all Junior equipment in the middle. The brochure highlights the fact that the Hydraulic model includes the smallest cutting head available in the market.
Arch-Master™ features are summarized along with a brief description of the portable auger system.
The back cover of the brochure features scaled drawings and specifications for all three models.
"We are really excited to have a fully updated piece that quickly highlights all of the best features of our equipment," said Dave Laing, General Manager. "You can get a 30,000 foot overview or you can get into the details with the specs on the back cover and the separate spec sheets. We hope this will provide most of our customers with the information required, but we also have full-time customer service representatives available to assist them with questions and concerns."
Mole•Master™ is a leading manufacturer of specialized silo cleaning equipment, Safe-T-Shot™ blockage removal systems, and a trusted provider of silo cleaning services. Visit our literature page to download a copy of the equipment brochure and to learn more.