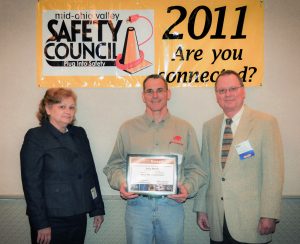 MARIETTA, OH — Mole•Master Services Corporation recently was recognized by the Mid-Ohio Safety Council for the company's outstanding safety record.
The award, sponsored by the Marietta Area Chamber of Commerce, honors companies that had zero lost-time accidents or injuries in the last year. This is not the first time that Mole•Master has received the award.
"We are always honored to be recognized for our efforts in the area of safety, as it is a hallmark of our company," said Dave Laing, general manager for Mole•Master. "We constantly promote safety with regular seminars and OSHA and MSHA refreshers throughout the year, so our teams are keenly aware of all safety issues while working on a job."
As part of its commitment to safety, Mole•Master also attended all of the Mid-Ohio council's meetings. Because of the award and its perfect attendance record at the safety council meetings, Mole•Master also benefits from lower rates from the Ohio Bureau of Worker's Compensation.
Mole•Master is a leading manufacturer of bin cleaning equipment, as well as a provider of trusted silo cleaning services. Visit the company's website at https://www.molemaster.com to learn how their innovative products and services can improve the efficiency and safety of your bin and silo operations.