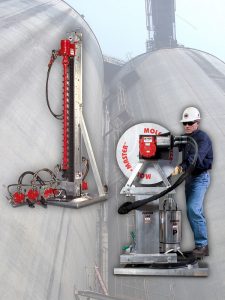 Marietta, Ohio…In response to recent economic and regulatory developments, Mole•Master™ Services Corporation is expanding its rental fleet of Mole•Master Junior 360º™ and Arch•Master™ bin and silo cleaning equipment to assist operators in a wide variety of industries, including:
Cement
Coal
Feed and Grain
Lime/Gypsum/Aggregate
Dave Laing, Mole•Master's general manager, noted the company has already seen an increase in its rental activity with more units being built to meet the greater demand. He cited two main reasons for the changes:
"The continuing economic uncertainty makes the ease of an equipment rental much more attractive for many bin and silo operators, compare to the painstaking process of purchasing capital equipment," Laing said.
"Furthermore, OSHA's recent crackdown on bin entry violations in the grain industry has forced operators to adopt more rigorous silo cleaning procedures. Renting well-maintained, dependable bin and silo cleaning equipment is an essential part of those endeavors."
OSHA's focus on the grain industry has put bin and silo operators on notice in other industries as well. "They know they need to develop cleaning and maintenance programs with safety as a foremost concern," Laing said.
Mole•Master™ is in the process of significantly increasing the number of its Mole•Master Junior 360º™ and Arch•Master™ units available for rentals and will add more as needed.
Ohio-based Mole•Master™ is a leader in bin and silo cleaning, inspection and preventative maintenance. For more information on the rental program, visit https://www.molemaster.com/