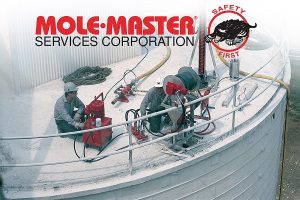 Mole•Master Services Corporation, a leader in silo cleaning, inspection and preventative maintenance, has achieved another year with zero lost time accidents or injuries.
General Manager David Laing said, "In a business like ours where each project presents many potential safety risks, I am extremely proud that our team has added another year without any OSHArecordable accidents or injuries. This is not only the result of our ongoing safety training but also the commitment of our professionals in the field to follow proper procedures every day."
Steve Schoonover, Manager of Safety and Operations for Mole•Master, noted, "With OSHA recently clamping down on companies not strictly adhering to existing safety guidelines, our ongoing safety record indicates that we are well positioned to continue to meet or exceed all OSHA guidelines for safety."
To learn more about how safety is a priority at Mole•Master, visit www.molemaster.com/safety/
For more information on silo cleaning services and equiopment offered by Mole•Master, visit www.molemaster.com.