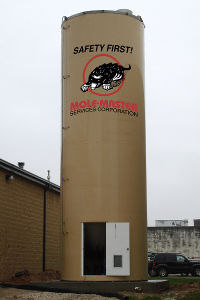 MARIETTA, OH – Mole•Master Services Corporation has installed a 36-foot bulk storage silo at its Marietta headquarters in an expansion of its existing training capabilities.
With a 12-foot outside diameter, the addition gives the Ohio-based silo cleaning specialist the ability to provide further hands-on training for its employees on site.. The silo offers the opportunity for employees to train on all aspects of silo and bin cleaning including all required OSHA and MSHA standards.
An added benefit is that the silo allows Mole•Master to offer training facilities for a wide range of community members, said Dave Laing, General Manager for Mole•Master.
"Anyone needing training to meet OSHA and other safety requirements will find the new training silo useful," he said. "We will lease the facility to companies and/or municipalities who may wish to use it to train firefighters, hazmat team members or others who may require safety training for their job."
Mole•Master is a leading silo cleaner as well as a trusted manufacturer of bin cleaning equipment. Visit the company's website at https://www.molemaster.com to learn how Mole•Master's innovative silo cleaning services can improve the efficiency and safety of your operations.