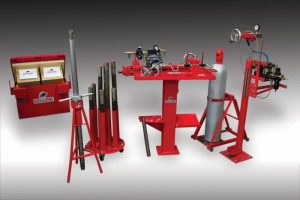 MARIETTA, OHIO – Mole-Master Services Corporation has unveiled its Safe-T-Shot unit, devoted to providing CO2 blasting equipment and supplies to the cement industry and similar markets.
"Since the mid-1980s, we've included CO2 blasting as one tool among many in the silo and kiln cleaning services we provide to a wide variety of industries, including cement plants," said company General Manager Dave Laing. "With the introduction of Safe-T-Shot, we can now offer consumables and equipment sales and support for existing and new clients."
Mole-Master decided to enter the business after a long-time CO2 blasting equipment maker closed, leaving a U.S. and worldwide customer base that needed sales and service, he said.
The blasting process removes hardened build-up inside silos and kilns by electrically igniting a CO2-filled cartridge placed near the blockage in the structure. In less than a second, the cartridge releases a powerful blast of carbon dioxide gas that can dislodge tons of hardened compacted material.
CO2 blasting won't damage silo or kiln linings nor will it contaminate the atmosphere or manufacturer's product, Laing said. Another benefit is that carbon dioxide is nonflammable and won't create flash fires within kilns or silos.
These advantages also make CO2 blasting well suited for mining, tunneling and demolition applications, he said.
All Safe-T-Shot equipment and consumable generators are made in the USA.
For over a quarter of a century, Mole-Master has been a leading manufacturer of bin-, kiln- and silo-cleaning equipment. Visit https://www.molemaster.com or call 800.322.6653 to learn more.